Alfred Wong – 'Passion' (Hong Kong) (world premiere)
Ananda Sukarlan – 'No More Moonlight Over Jakarta' (Indonesia)
Ne Myo Aung – 'Moha' (Myanmar)
Aslihan Keçebaşoğlu – 'Ninni' (Turkey)
Bongani Ndodana-Breen – 'Isiko: An African Ritual for Ancestral Intercession' (South Africa)
Sidney Boquiren – 'Unheard Voices' (Philippines)
Milad Yousufi – 'Willow' (Afghanistan)
Jed Distler – 'Birthday Bagatelle' (US)
Bosba – 'Sovannaphum: Kosal's Lament' (Cambodia)
Aida Shirazi – 'Après' (Iran)
Adina Izarra – 'Arietta for the 150' (Venezuela)
Beethoven – Sonata No.32 in C minor Op.111
Before embarking on pianist Yael Weiss's marathon session celebrating the 250th anniversary of Beethoven's birth, 'Beethoven and the Global Aspiration for Peace', listen to the Dona Nobis from his Missa Solemnis. You will hear its theme throughout the 12-hour event, which was streamed live on Beethoven's birthday, but it's worthwhile to experience it as he intended it to be heard, but of course never did. It serves as a great primer for this remarkable event.
Beethoven's setting of the Dona Nobis, which translates to 'grant us peace', was the inspiration for Weiss's 32 Bright Clouds Project. It wasn't only the music that moved her to act, but also Beethoven's inscription – 'Prayer for inward and outward peace' – on the manuscript of the final section of the Missa Solemnis. The project had its genesis a few years ago as Weiss's response to the atmosphere of fear and alienation that was engulfing the US. Her hope was that by commissioning works from composers in countries beset by conflict and unrest, Americans could gain insights from them and their music into how to cope during these unsettling times.
Through the 32 Bright Clouds Project, Weiss commissioned an equal number of composers to create works that include a specific reference to the composer's native country. Additionally, each work must include a thematic link to one of the Beethoven piano sonatas. Finally, the Peace Theme, as Weiss calls those few notes from the Missa Solemnis, had to be woven into the fabric of the work. These requirements manifested themselves in bold strokes, such as Alfred Wong's 'Passion' which is at times a fantasia on the Peace Theme; and in subtle, almost imperceptible incorporations, as in Aslihan Keçebaşoğlu's 'Ninna' and Bosba's 'Sovannaphum: Kosal's Lament'.
The live-streamed event was inspired in part by an all-day concert of the Beethoven sonatas arranged by Weiss's teacher Leon Fleisher for his students at the Peabody Conservatory of Music in the early 1990s in which she participated. (Weiss was assigned the 'Hammerklavier'.) It also grew out of a virtual memorial to Fleischer, who died in August at the age of 92, which made Weiss realize that global connectivity made such an event feasible.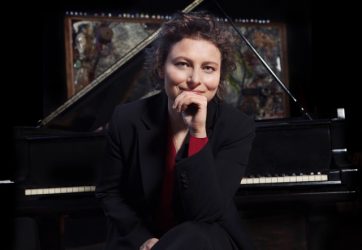 Weiss told the story of being in Russia with Fleisher when he was presented with a set of Matryoshka dolls; the large, outer one was Beethoven, while the smallest and innermost was Fleisher. The other three were of Carl Czerny, who had studied with Beethoven; Theodor Leschetizky, who studied with Czerny; and Artur Schnabel, who had not only studied with the great Polish pianist but was also Fleisher's teacher. Fleisher began studying with Schnabel when he was nine, despite the formidable Austrian pianist's policy of not teaching children.
Weiss's embrace of composers and their music from around the world made this Beethoven birthday celebration like no other. There was more talk than music and relatively little Beethoven, with hours of oral program notes delivered by the composers on the works that Yael performed as well as those that are works in progress. It was also an ethnomusicology course on musical traditions in the composers' respective countries. It would be hard to imagine a more appropriate tribute to Beethoven, who championed universal brotherhood, than this celebration of composers from around the world and their music.
It was fascinating to hear the composers discuss their introduction to Western classical music and Beethoven. Many said that Beethoven's Ninth Symphony was their first exposure to his music, as it was for me. In reality, like many of my generation, I was listening to it without knowing what it was: the second movement of the Ninth Symphony was the music that played underneath the opening credits of the NBC Nightly News back in the day. The 'Ode to Joy' was not nearly so ubiquitous then as it is now, and it would be years before I heard a complete performance of the Ninth (with William Steinberg conducting the Pittsburgh Symphony).
My introduction to the piano sonatas came later in a serious of recitals given by Eunice Norton in Pittsburgh. Norton, a brilliant American pianist with an international career, studied with Schnabel in the Thirties. During her recitals, she frequently reminisced about Schnabel, with whom she remained friends even after she moved to Pittsburgh and left the international stage. Her performance of the 'Waldstein' was one of the unforgettable musical experiences of my formative musical years.
A winter storm swept through the New York metropolitan area on Beethoven's birthday. Live performances would likely have been cancelled even if it weren't for the pandemic. Being snowbound provided the opportunity to listen live to much of 'Beethoven and the Global Aspiration for Peace'. I caught the rest the following day when the snow was still falling.
On that snowy evening when all was still, listening to Weiss perform Beethoven's final piano sonata was a performance that is indelibly etched in my mind.
Rick Perdian
Source Credit : https://seenandheard-international.com/2020/12/pianist-yael-weiss-hosts-a-global-celebration-of-beethovens-250th-birthday/
Program : https://youtu.be/oyVIg3E5jv4